Three channel transmitter with a sun visor clip. Suitable for:

B&D Controll-A-Door 4,
B&D Controll-A-Door 5,
B&D Controll-A-Door P (CADP),
B&D Controll-A-Door R (CADR)
Firmamatic and
B&D BM4 openers.
B&D PTX4 / 059116 / 059120
B&D 062162 / 4335EBD
B&D 062170 / 4333EBD
B&D 4330EBD
CHAMBERLAIN 4335A
CHAMBERLAIN 4333A
FIRMAMATIC 059409
EASYLIFTER 062266-G433OEL
A handy keyring size version CAD601 is also available.
Good to know :
Compatible motors:
CAD4
CAD5
FAM4
FAM5
FAM P
FAM RDO
EL4
EL5
CAD R
CAD P
CAD P DIAMOND
CAD P DIAMOND WQ
CAD DIAMOND PD
CAD SHED MASTER
EASYLIFTER
FIRMAMATIC SDO
FIRMAMATIC RDO
FAM R
EL R
This one is upgraded to B&D433.
Free shipping (within Australia)
Quantity
Brand:

Chamberlain

Model:

4333A

Code:

4333A

Frequency:

433.92 MHz

Status:

In stock

Dimension:

76x43x16
Battery:

CR2032 3Volts

Switches:

0

Buttons:

3

Button Color:

white

Case Color:

black

Size:

Handheld (cig box)
---
This one is upgraded to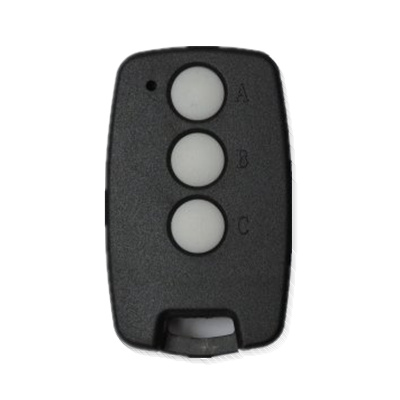 B&D B&D433
---