This is the Magic Button 2-channel remote control. One of the two buttons controls the common entry security gate or door while the other operates the private garage door.
This remote has been discontinued and replaced by FMT202DA. Looking for small vision, choose KEY302DA.
The model number of the receiver inside the main entry door opener is FMR201 which has 6 pins to connect. The private garage door opener often adopts Elsema FMR-212 or FMT-224 which is usually attached onto the drive unit.
Attention :
This transmitter looks the same as Magic Button MB302. However MB302 has 10 dip switches inside the enclosure while MB202DA has 12 dip switches. They are not compatible with each another. Please do distinguish before purchase.
This one is upgraded to FMT302DA.
Free shipping (within Australia)
Quantity
Brand:

Magic Button

Model:

MB202DA

Code:

MB202DA

Frequency:

27.145 MHz

Status:

In stock

Dimension:

95x55x22
Battery:

6F22 9Volts

Switches:

12

Buttons:

2

Button Color:

black

Case Color:

white

Size:

Handheld (cig box)
---
This one is upgraded to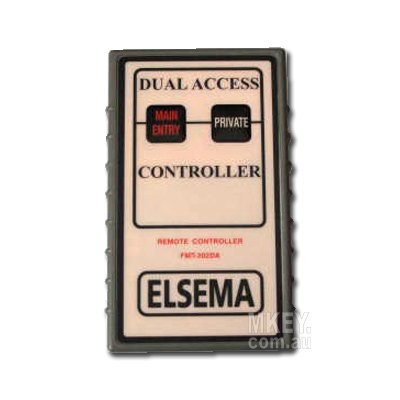 Elsema FMT302DA
---