Many traditional garage door openers still work perfectly fine but may have obsolete remote controls that are no longer available on the market. In such cases, you can install a compatible receiver that can convert different modern fob-style remotes to operate the garage door.
This type of receiver can be easily installed and is usually compatible with a variety of different remotes, allowing you to choose the one that best suits your needs. You may also need to program the receiver to work with your existing garage door opener system, which can usually be done through a simple process.
It's always a good idea to consult with a professional garage door technician or installer to ensure that the receiver is installed correctly and that the system is functioning safely and efficiently. Additionally, you should always follow the manufacturer's instructions when installing and programming the receiver to avoid any potential safety hazards or damage to your garage door opener system.
This one is upgraded to SGO 402.
Free shipping (within Australia)
Quantity
Brand:

Others

Model:

KFR-TX6

Code:

KFR-TX6

Frequency:

433.92 MHz

Status:

In stock
Battery:

27A 12Volts

Switches:

0

Buttons:

4

Button Color:

blue

Case Color:

black

Size:

Key ring (match box)
---
This one is upgraded to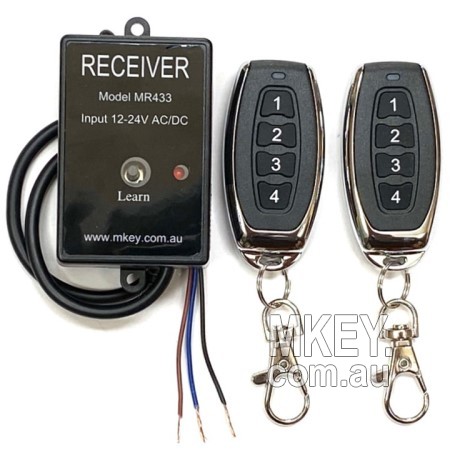 MagicKey SGO 402
---