You will receive 1 of the distinctive shaped black remote controls with 4 blue buttons as shown in the photos which is a genuine product produced by RIB in Italy and is easy to pair with your gate.
This genuine RIB Sun Clone remote transmits a 1 second long signal irrespective of how long you press the button ensuring a good response from the receiver. We have test the aftermarket versions of this remote and they do not match the genuine remote for strength of signal or range. In some cases the range of the aftermarket remotes was as much as 50% less than this genuine one.
The RIB Sun Clone 4CH can replace a bunch of older RIB remotes as shown in the photos including the Sun Clone 2CH, Moon Clone, Moon T433-4, Moon T433-2, RIV T433-1, RIB T433-2 & RIB T433-3.
The remote is compact in size measuring 65 mm x 38 mm x 14 mm and comes a battery installed ready to use. It has an orange LED and uses a 23AE 12 Volt battery. The LED will flash slowly when the battery needs to be changed.
This remote can either clone the codes from an already programmed remote on your device allowing you to add the new remote without accessing the receiver box or can be learnt into the receiver directly as with most other remotes. Both procedures are pretty straight forward
This one is upgraded to RIBmini.
Manual:
Download
Free shipping (within Australia)
Quantity
Brand:

RIB

Model:

RIB SUN 433 2CH

Code:

RIB

Frequency:

433 MHz

Status:

In stock

Dimension:

60x35x10
Battery:

23A 12Volts

Switches:

0

Buttons:

2

Button Color:

blue

Case Color:

black

Size:

Key ring (match box)
---
This one is upgraded to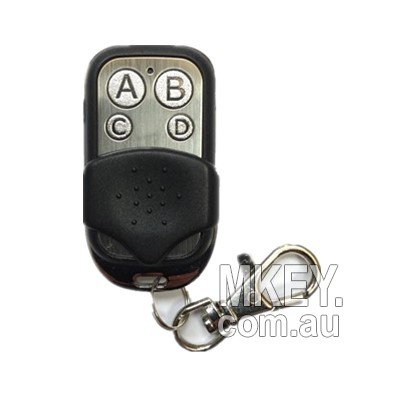 RIB RIBmini
---