This remote has been discontinued. There is a receiver box above the drive unit R240 or somewhere near the ceiling . The external receiver Brand is Shima Digital with 3 wires: AC 24V-White(common)RELAY-Black, RADIO POWER-Red, MAX. INPUT AC 30V Made in Japan. To replace the receiver and the bulk remote is a solution. This Tilt a Matic opener has an external receiver which is installed around the opener or near the garage ceiling.
Attention :
This remote has been discontinued and upgraded to a conversion kit MK702T, which is composed of one receiver MR433 and two keyring size remotes MK770. All you need to do is to disconnect old three wires and attach the new receiver. All done.
This one is upgraded to MK702T.
Free shipping (within Australia)
Quantity
Brand:

Tilt a Matic

Model:

TRG108

Code:

TILT-A-MATIC GREY

Frequency:

27.120 MHz

Status:

In stock

Dimension:

85x65x20
Battery:

6F22 9Volts

Switches:

8

Buttons:

1

Button Color:

white

Case Color:

wooden

Size:

Handheld (cig box)
---
This one is upgraded to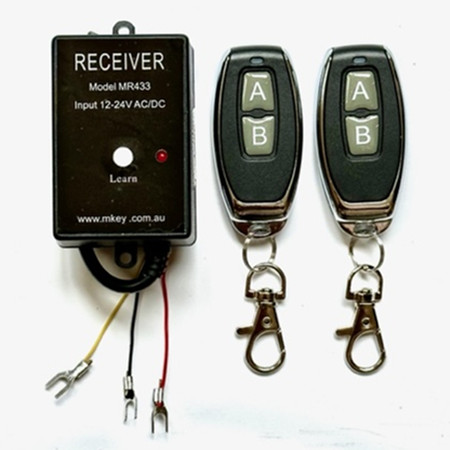 Receiver MK702T
---