It is the newest model of B&D TB6 remote. Has the same function as CAD618 with black color.
B&D Diamond transmitters are SMALL and LIGHT key-ring size ones. The Four button can offer you the use for different functions.
Suit models: Control A Door P,
SDO-3V1 CADS SDO-3V2 CADS etc.
This tough remote meets aust STD E3817 also suits for SDO-4V1 , CAD-S, Advance SDO-2V2 , Roll-A-Pro RDO-1V3 Power Drve RDO-1V4 etc .
Good to know :
If you feel CAD E3617 is a bit bulky, a smaller fob, the B&D Slim2, is available at a reasonable price, almost half the price. It is smaller but comes with two large buttons, making it easy to carry on your keyring. The range is stronger, and the battery is the same size.
This one is upgraded to TB-7V1 red.
Manual:
Download
Free shipping (within Australia)
Quantity
Brand:

B&D

Model:

TB6

Code:

CAD E3617

Frequency:

triocode

Status:

In stock

Dimension:

65x35x10
Battery:

CR2032 3Volts

Switches:

0

Buttons:

4

Button Color:

black

Case Color:

red

Size:

Key ring (match box)
---
This one is upgraded to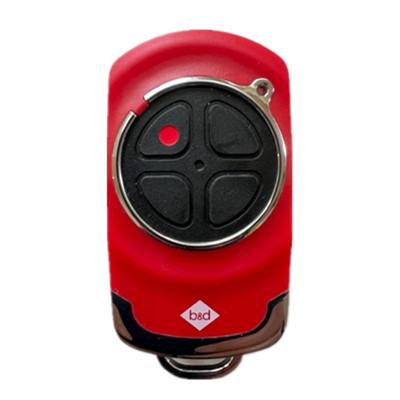 B&D TB-7V1 red
---