This handy fob remote control is suitable for:

- B&D Tilt A Matic openers TR300, TRV300, TRG300, TRG306 and
- Door-Mate 700T openers

Programming couldn't be simpler - just set the positions of the 8 DIP switches (locate inside the remote) same as your original remote control. That's all.
Good to know :
This remote has user-friendly Click'n Open case well designed by our engineer. No screws needed and easy to open while cases are fastened tightly.With ABS enclousure and silicon button, it's very light but robust.
TRG117SV with a very useful sun visor clip is also availble.
Sun visor bracket option TRG117SV.
Manual:
Download
Free shipping (within Australia)
Quantity
Brand:

Tilt a Matic

Model:

TRG117

Code:

TRG117

Frequency:

303 MHz

Status:

In stock

Dimension:

53x40x12
Battery:

23A 12Volts

Switches:

8

Buttons:

1

Button Color:

red

Case Color:

black

Size:

Key ring (match box)
---
Sun visor bracket option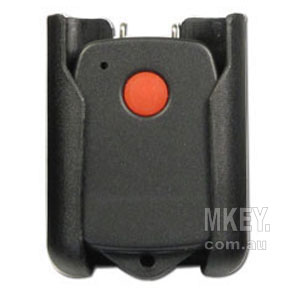 Tilt a Matic TRG117SV
---